People saying that there is no P2W in Path of Exile are correct
As someone who has thousands of hours on PoE. And I'll explain why. PoE is all about knowing the game, paying attention to the market (you can also play without trading, it won't ruin your fun) and knowing which items are good for what purpose. If you pay attention and learn about the game, you can do really well when it comes to progressing and trading. Regardless of how many stash tabs you have, if you're smart about it, you'll be efficient. What P2W means, is, that when you invest real money into the game, it will be easier for you to progress through the game. Some games achieve this through giving the player more power.
This game only gives you convenience features and visual effects. If you don't know which items to sell and what is vauable (or isn't), a million stash tabs won't help. Even if you put up everything for sale, the person who is efficient and know what to pick up and what not to, will still make more money with 4 stash tabs that someone with a lot and no game knowledge. And if you ARE efficient, and you're running out of stash space, I guarantee you that you've playyed the game for about 20 hours already, at which point, you still most likely have about 70% of the endgame content left to explore, which will take you days or even weeks to do. And if you consider how much time and entertainment this game has provided you for free, you won't feel sorry for paying a couple $ for a few stash tabs (not to mention that "bundles" of 7 tabs go on sale every other weekend, so you can get them cheaper).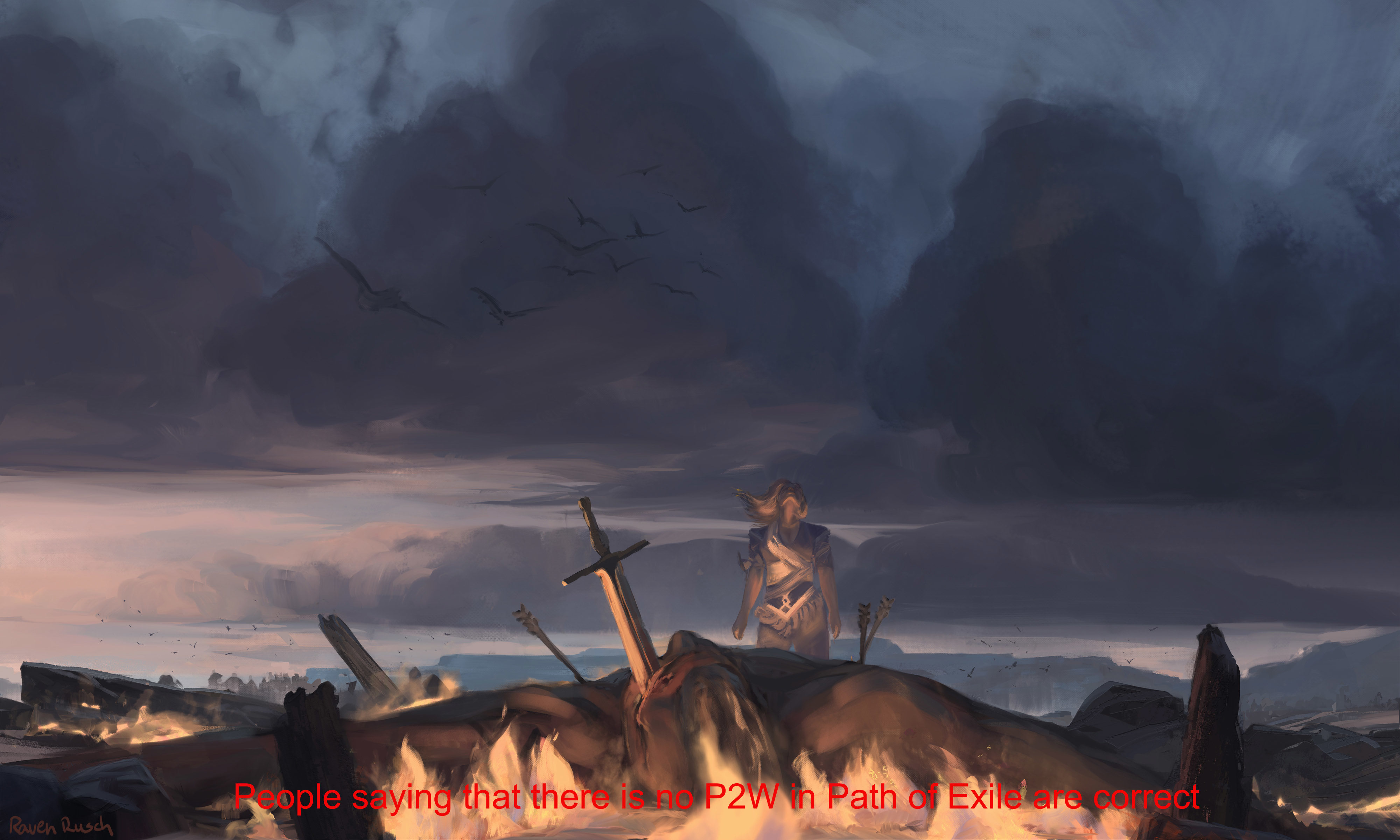 As I've said, stash tabes aren't pay to win, they're not even useful if you don't know what to do with them. And you can sell and trade items without the premium ones. You can try out "Acquisition", it's a really nice program that will help you sell items on Path of Exile. trade and even hase better search options than the in-game searcher, so you can navigate your items more quickly. In fact, it's so good, that there are some traders out there, that still use this software despite them having premium stash tabs.
Wasting 2 tabs for poe chaos recipe is far from being efficient. All you really need to collect is Jewelry and you grab the rest as you're mapping and before you sell to vendor, you just grab the Jewelry and sell it all as a chaos recipe.
Efficiently using space means you turn as much of the stuff you get into Path of Exile currency quickly and then trade that poe currency up (like poe chaos into poe exalts), so that it takes less space in your stash. As for good rares, the ones that are really good, you'll only get so much, it's generally not worth saving all the life+2resist gear. Even if you do have enough stash space. While sure, it is important if you're playing Hardcore, most people who start out won't be playing Hardcore, so it shouldn't be judged by that.
And noone said having 4 stash taabs was great, if that were so, noone would buy more, but it is sufficient. I don't know how many f2p games you've played, but in comparison to most, the space you get in Path of Exile is immense, imagin having one stash tab, or even half of one. That's how much space most f2p games would give you. And if you want a testament that you can work with 4 stash tabs, go check out ProjectPT, he played with 4 for years.
Pardon my expression, but get your head out of your ass man. Your example of 10% pvp damage is useless here, as there are no other circumstances explained (importance of pvp in that game maybe?). But if there was something like that in PoE, that's still not comparable, as one is advantage over other players and the other one is convenience. Learn the difference.
And cool visual effects also affect the gameplay. If you enjoy playing a character that looks cool unlike playing a hobo, then it's more enjoyement out of the game if you have payed for cosmetics. And as far as stash space is concerned, you can really only compare it when people are doing something to compete between themselves. If you start 3 weeks into the league you can't be the first to get to lv100, wether you have a million stash tabs or not. And for people who play intelligently, even 4 can be enough, after all, in stuff like racing, playing intelligently and efficiently is what will make you be the first, not dumping tons of items in your stash tabs (most racers don't even have time to sell anything of low value anyways or bother with chaos recipes and so on).
The only borderline P2W thing is when premium tabs can be used to sell things faster than you would with stuff like Aquisition. But it's still not enough to outright call it P2W, becouse it has little effect on competitive play.