Path of Exile Molten Shell Self-Chain-Casting Mechanics
Hey guys, I think I've come across something unique.
I've been playing with a self-cast Molten Shell build, maxing armor and endu charges to make it proc quickly. I've noticed that if I just spam-cast Molten Shell without waiting for a detonation, one still occurs even though I keep resetting it with casts.
I took my lvl 30 build back to act 1 normal cost, and chain-casted it against zombies. Even vs 1 zombie, the molten shell would eventually detonate, taking around ~26 hits on average to blow up.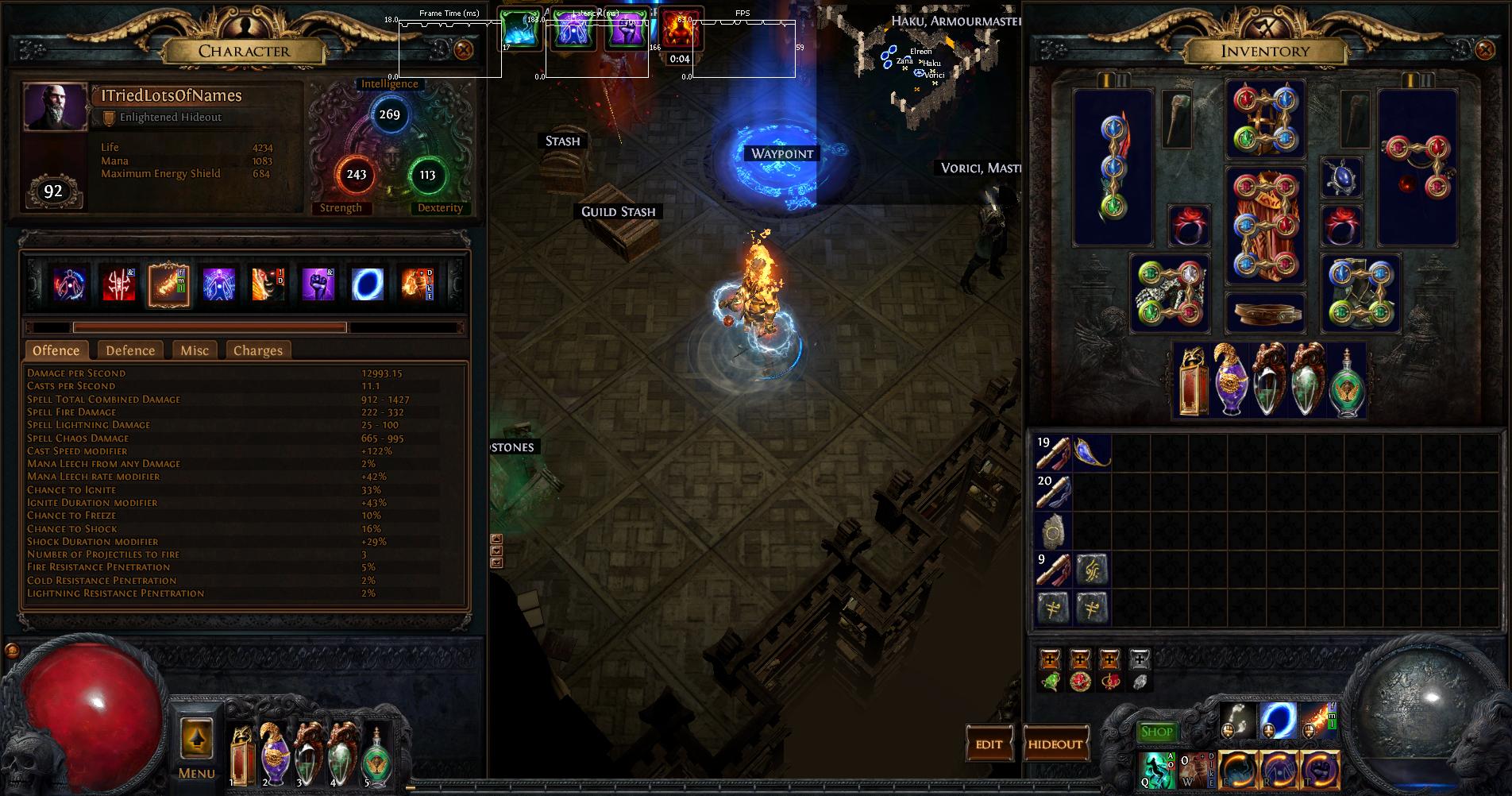 I'm thinking that if you re-cast molten shell while you still have the molten shell buff, that the damage mitigated with it is stored, persisting to the next cast.
There's no other reasoning I can think of that a lvl 2 solo zombie could ever proc a molten shell detonation vs a lvl 30 marauder.
Thoughts?
EDIT: For perspective, a brand new lvl 1 Templar has 66 hp. The level of Molten Shell I was using needed 155 damage prevented to trigger. I got a lvl 2 zombie to trigger it, and I kept recasting molten shell every ~.8 seconds. There is absolutely no way ever that zombie could have done 155 dmg between casts.. that's over twice the HP a lvl 1 char has! Have you ever been one shot by a single, white zombie in normal coast?
That must be how it works. I think I could make a better build now that I know this. It should be in the wiki, I have no clue how to add this info to it.
After more testing, I'm 100% sure this is how molten shell works. The damage threshold is saved for the next cast as long as you re-cast a new molten shell before the old one ends, from time or being detonated. It could make for interesting builds. I can go between enemies and just spam cast it, and get a lot of explosions. Just need more Radius.Now instead of waiting for it to detonate, I just chain cast it in a pack of mobs, and it procs multiple times very quickly. I assume when packs get denser and start to do more dmg, I'll basically be trigger it as often as Vaal Molten Shell (not quite, but comparable enough to be useful)