PoE New Expansion Review: Echoes of the Atlas
Echoes of the Atlas is the latest large expansion of Path of Exile, with a newly designed endgame content and reworked ascendancy classes. In addition, there are 11 added maps and new currency rewards.
New Endgame Fights
Echoes of the Atlas is a major revision to that endgame, adding 11 new environment types (with new monsters and bosses) to the melting pot, along with a bunch of new customization systems tied into a new story arc. Turns out that stomping all over the space-time continuum has piqued the interest of some powerful cosmic deities. One of them, The Maven, wants to see what you can do. Turning up during major boss fights to do her best Rita Repulsa impression, she buffs bosses for her own amusement as she sits on the sidelines with a bag of popcorn.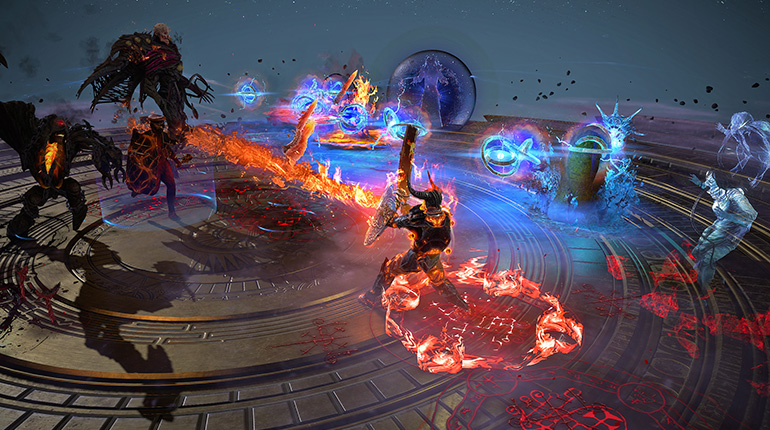 Kill enough of these even-bigger-bads and she'll be impressed enough to invite you to her interdimensional fight club. As you work your way through the Atlas, The Maven will invite you to special boss fights in her arena. Each victory in these cosmic cage matches gives you special skill points which you invest in customizing the Atlas itself, letting players pick and choose what Challenge League activities and game mechanics they'll encounter in each part of the Atlas. This is on top of the existing pile of customization features, like using the crafting system to customize individual encounters, and slotting upgrade gems into the Atlas map itself to upgrade the difficulty of a given region.
If players are willing to fight for it, they can tweak, tune, and modify the endgame to create something personalized according to their playstyle and skill level. It won't be easy, though, as each victory in The Maven's arena increases the stakes. For each successive fight, she'll summon more bosses simultaneously—culminating in a ridiculously fatal ten-boss royal rumble. Survive that and The Maven will challenge you to a duel, becoming the Path of Exile's hardest battle for glory, bragging rights and some ultra-high-end new gear. Just don't expect to just go waltzing into this fight, as it's tuned to challenge the most min-maxed and optimized character builds in the game.
Harvest and Heist Reworked
The farming and stealth action gameplay introduced in the Harvest and Heist expansions respectively are set to be introduced into the core loop of Path of Exile. Both pillars are presently experienced in isolation, but with the new expansion, they will be a part of the story progression and included in the Atlas endgame, presenting them more organically in the experience.
Unloack Atlas Passive Tree
Instead of directly contributing to a character's power, the Atlas Passive Skill Trees shape the Path of Exile experience. Players can invest points toward a specific kind of activity. For example, in the Lex Proxima region of the Atlas Passive Skill Trees, players who enjoy the Harvest activity can invest points that help them find more Sacred Groves (random Harvest events) or earn more crafting rewards from Sacred Groves. Other regions offer similar perks for certain activities, like increasing experience gains from Beyond Monsters.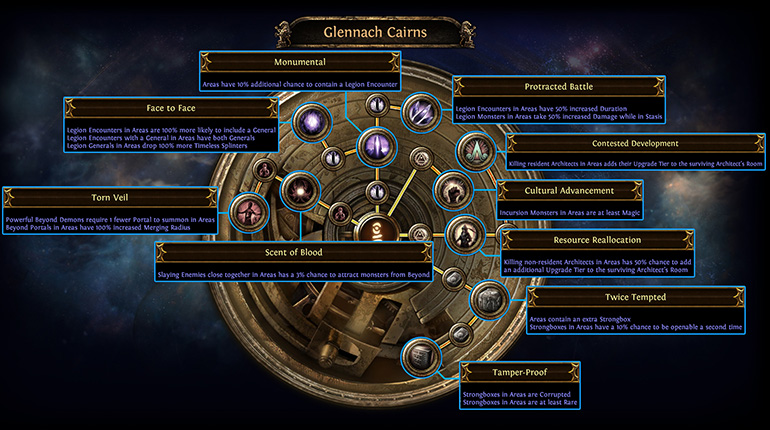 This new customization system is a way for players to choose the kind of endgame content they want. Both Heist and Harvest return to Path of Exile as part of the core game, adding even more random encounters to the world that players can stumble upon. Naturally, some players will enjoy some of these activities more than others. With the Atlas Passive Skill Trees, players can invest heavily in an activity they love, like Harvest, while straying away from upgrades for activities they dislike, like Heist.
Eleven New Maps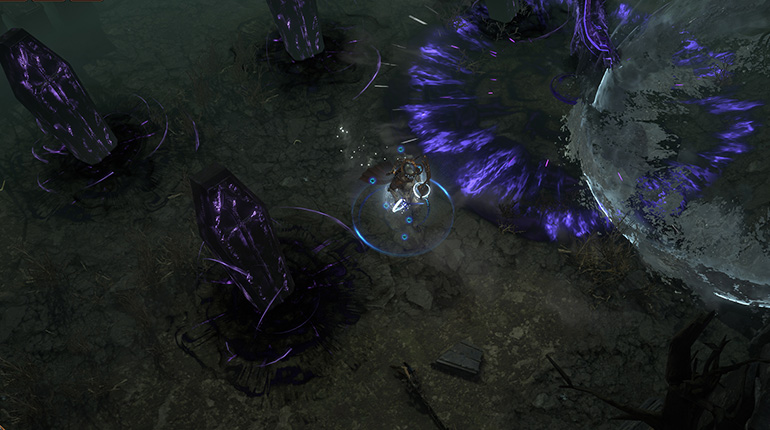 The expansion will introduce 11 new maps layouts. What makes these maps different from PoE's current suite of locations is that they feature dynamic camerawork and more intricate level design. According to Wilson, the developers' work on Path of Exile 2 influenced the changes map to the current game's current map designs.
Ascendancy Classes Reworked
PoE's ascendancy classes are special subclasses that open up new skills and perks. The Echoes expansion will update four classes--The Slayer, Deadeye, Inquisitor, and Elementalist--with buffs, rebalances, and other upgrades that will make them more defined and viable for longterm play.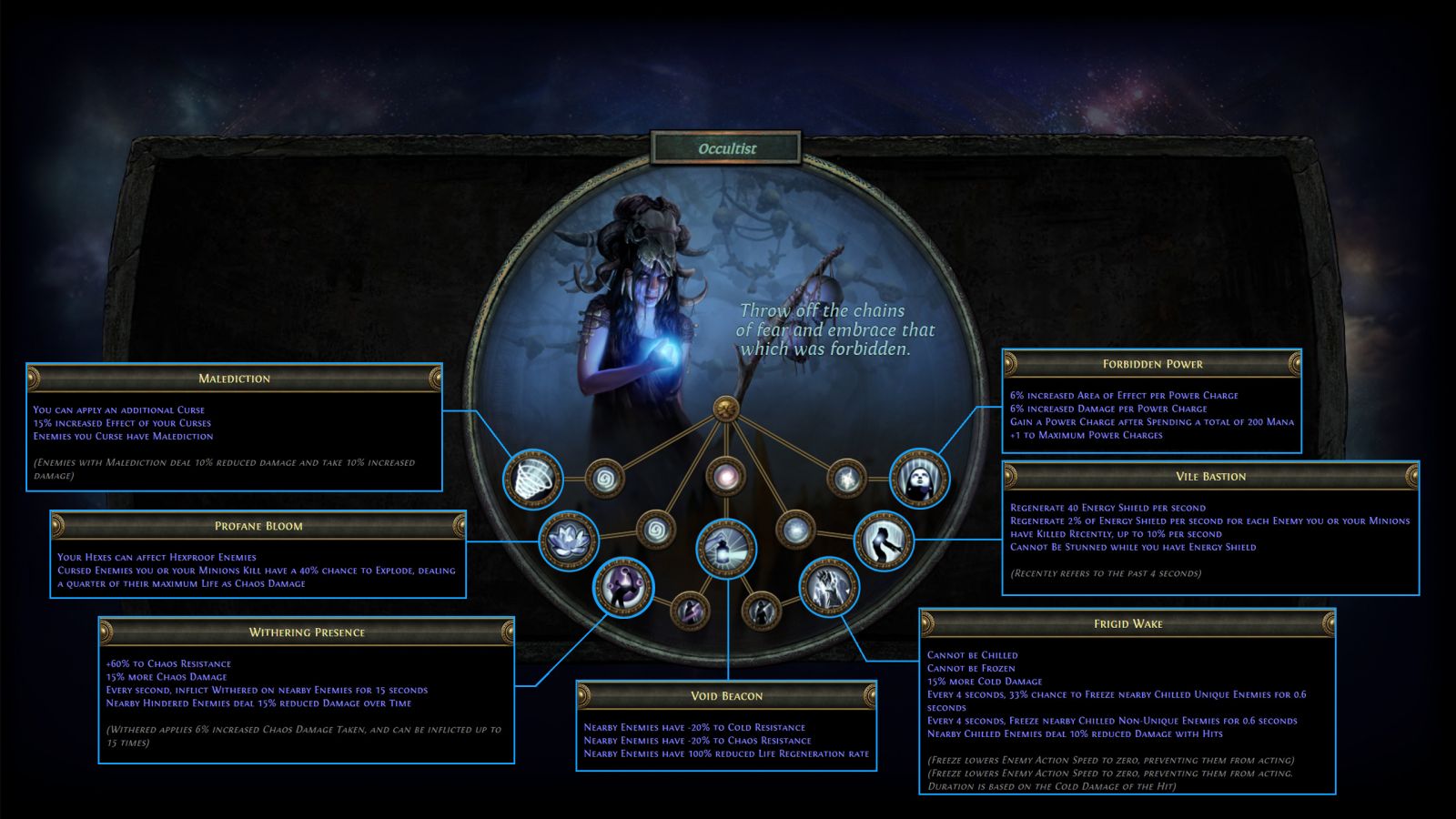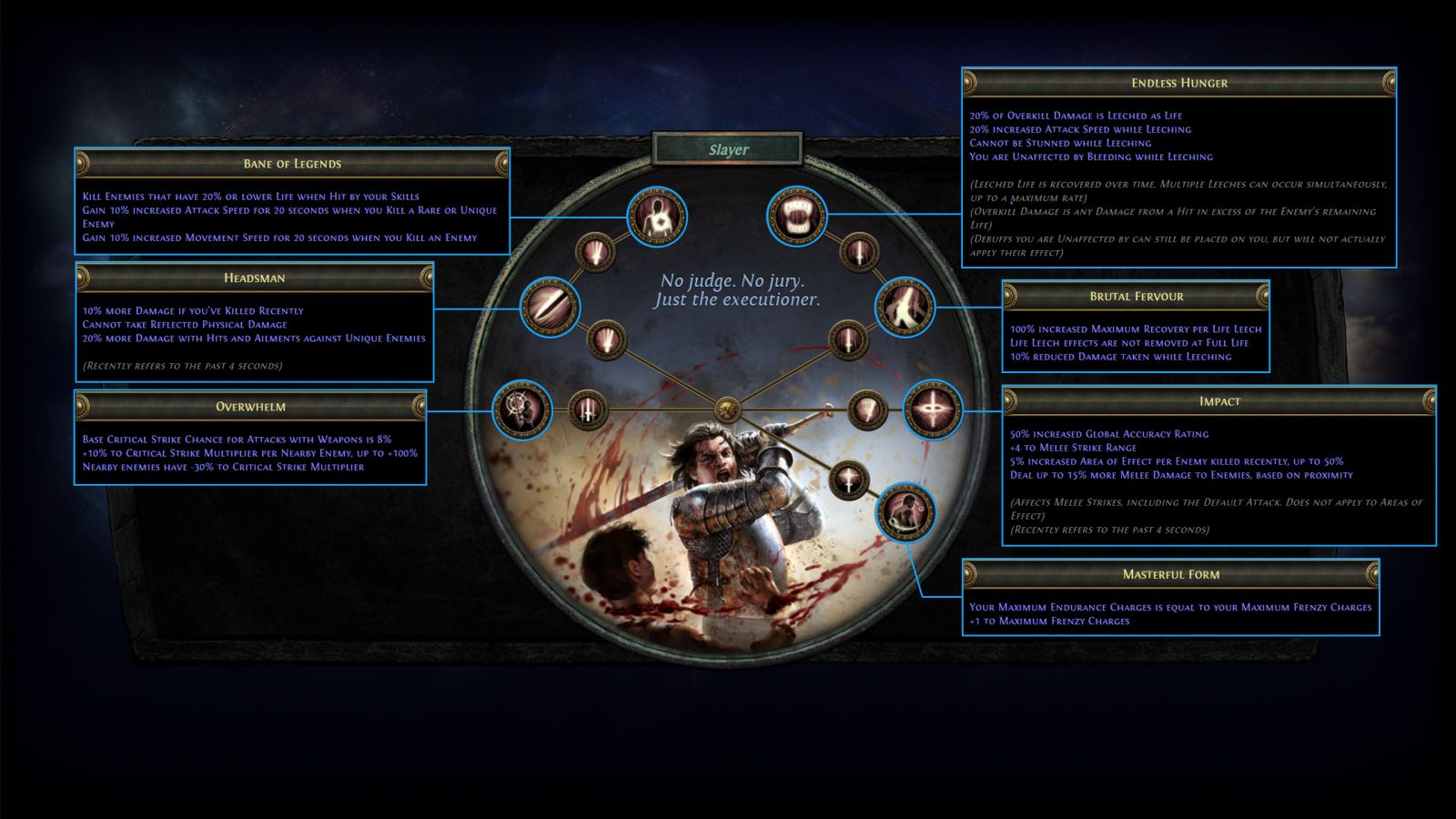 New PoE Currency
Echoes of the Atlas introduces three types of Craftable Watchstones. These valuable endgame items allow you to upgrade your Atlas and boost what types of rewards you find from maps. Players who are able to earn these powerful rewards will find that they are strictly better than regular Watchstones: they can be traded, don't expire with use, and their benefits can stack.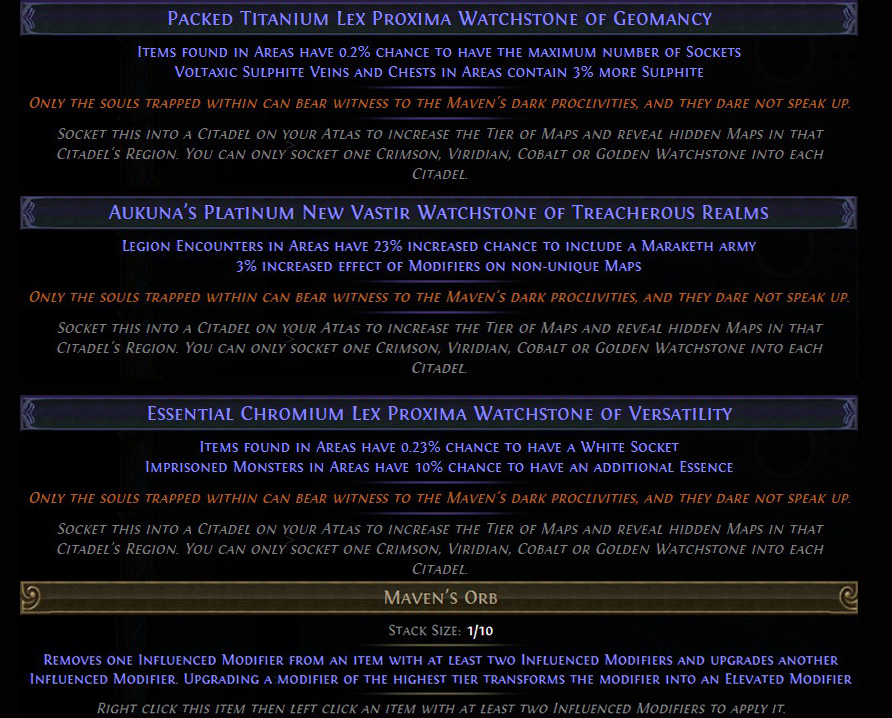 Another new endgame reward, The Maven's Orb, affects items that have two or more influence modifiers. When used on such an item, it randomly upgrades one of these influence modifiers and removes the others. If the modifier that's being upgraded is already at the highest tier, it'll upgrade to a new elevated tier.
Grinding Gear Games will launch Path of Exile: Echoes of the Atlas on Jan. 15 for Windows PC, and Jan. 20 for PlayStation 4 and Xbox One.