Path of Exile Skill Gems Guide
There are a lot of skill gems in the Battle System of Path of Exile, so if you want to get more powerful and reasonable skills in this game, you need to know more basics of Skill Gems, which is the main content of this article. Please remember that Poe4orbs.com is a place that you can get Poe Orbs and Currency online, of course, with safe and fast service.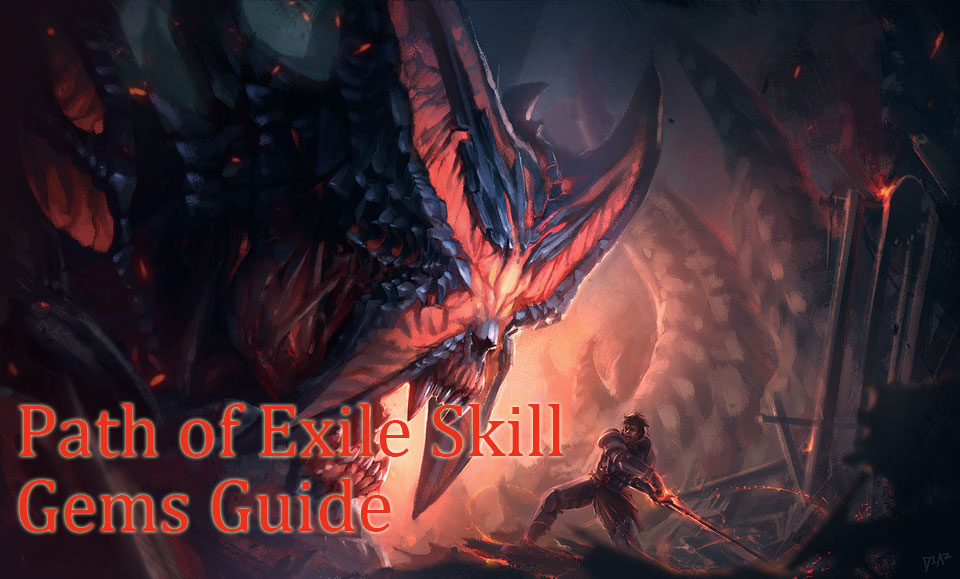 Skill Gem
Active skill gems grant an active skill for the player to use. There are three skill gems in total: red, green, and blue, which represent Strength, Dexterity, and Intelligence. Skill gems must be equipped in item sockets before their use. There is no difference between the weapon and the equipment hole, and the melee skill can be used in the hole of the helmet. Skill Gems can be obtained through missions and monsters.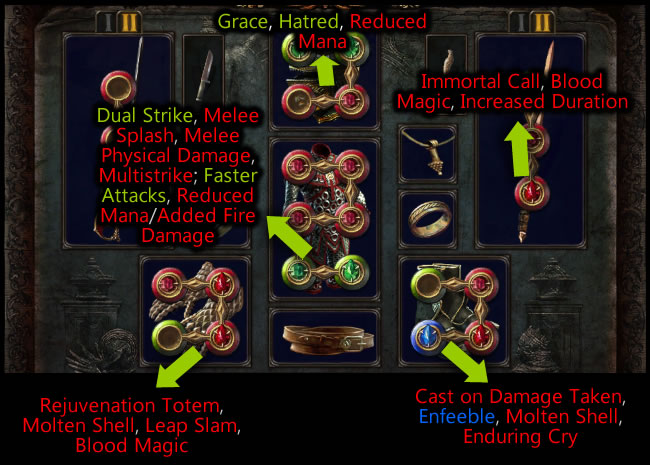 Gem level
Any profession can use any skill, as long as your attribute requirements are met, some skills require a specific type of weapon to be used. can use any skill, as long as your attribute requirements are met, some skills require a specific type of weapon to be used.
Skill gem will be upgraded with the experience of monsters. As gems level up, the abilities they grant get better, but the requirements to equip them also increase.
For example, the demand level of Sweep is 2, the demand power is 0, and there is no special attack bonus. But when it reaches 2, it starts to have 3% physical damage. At 3 levels, there is a power requirement of 16. If you have a power level of less than 16, you will not be able to use it.
Only the skill gem in the equipment can gain experience.
Skill gems can be pulled out of the equipment at any time and can be traded.
If the skill gems that have added the special effects of the mall cannot be traded, you must remove the special effects first.
Support Gem
Support gem is used to enhance and change skills. Some equipment holes have a line connected, and one of the holes is inserted into the support gem, and the skills in the connecting hole can be enhanced or changed. If there are three holes that are connected, you can use two support gems to enhance a skill. Or a support gem to strengthen two skills.
The support gem can be upgraded as well.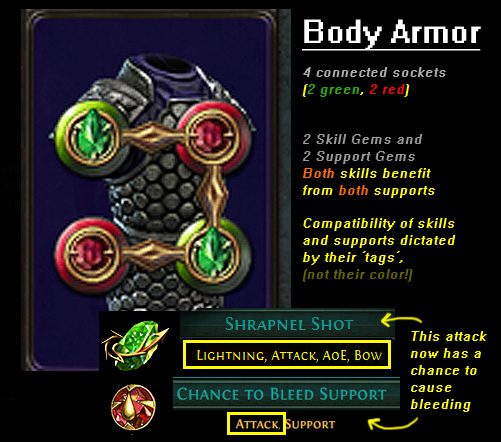 Quality
As with equipment and weapons, the quality of skill gem can be increased by up to +20%.
The way to improve the quality of a gem is to use GCP.
Aura
Aura is a permanent skill that lasts on the character and affects the surrounding team members and your mana.
The bonus provided by other skills or items does not affect the player. For example, Player A has the talent to add extra energy shields. He activates the Aura of Extra Energy Shield and he will receive a full bonus. The teammate is Player B. He has no talent to add extra energy shields. He can only receive the basic energy shield provided by the Halo.
Weapon List
One-Handed Axe
Two-Handed Axe
One-Handed Sword
Two-Handed Sword
One-Handed Mace
Two-Handed Mace
Dagger
Claw
Staff
Wand
Bow
The bow skill IS not specifically marked as requiring bow because it is clearly XD.
About Projectiles
Projectiles are flying objects that are shot from the player's bows and spells. They will fly until they hit the target or the wall.
When the projectile hits the enemy, it can pierce, fork or chain if there is a bonus of the auxiliary skill stone. For details, please see the section on support gems.
Unique Skills
Portal
Create a portal that leads to the towns in the current area.
It requires a level of 10, which can be placed in a hole of any color. It advances by 3% casting speed per 1% quality.